The reasons for why you should be doing mobile marketing are numerous and profound. It's been well documented how text messaging is a pervasive, attractive channel.
Mobile has been championed largely for its ability to serve as an advertising platform for marketers. However, mobile does not need to be all about flashy ads or innovative promotions and campaigns.
SMS text messaging remains one of the simplest, yet most effective ways to increase revenue and brand engagement. While text alerts and notifications are not a glamorous or groundbreaking mobile tactic, they yield great results. Studies show that SMS has an unprecedented 98% open rate (almost all text messages are usually read within five seconds!).
While SMS alerts and notifications are simple, they are excellent at ensuring a great customer service, turning consumers into brand evangelists.
As a marketer and brand advocate, I can appreciate a well-executed SMS campaign. I thought I would highlight a few of my personal favorite SMS alerts and notifications:
CVS/pharmacy: CVS/pharmacy rolled out their SMS program known as Order Ready Text Messaging, which notifies users when their prescription is ready to be picked up at their local pharmacy.
"CVS/pharmacy launched Order Ready Text Messaging to allow customers the convenience of receiving an immediate notification when their prescription is ready to be picked up," said Erin Pensa, director of public relations for CVS/pharmacy.
"This program enhances communication with our customers by letting them know their orders are ready when they would not otherwise be aware, eliminating the need for them to call-in to check and, ultimately, save the customer time," she said.
Text alerts are available at more than 7,300 locations in the U.S., including the one I personally use. I opted-in to the Order Ready Text Messaging program, which I have found beneficial. It definitely saved the time and hassle of calling into the pharmacy to confirm pickup time. I never have to wait around the pharmacy, because I now know exactly when a prescription is ready. Whether CVS/pharmacy fulfills an order early or late, I can adjust my time accordingly.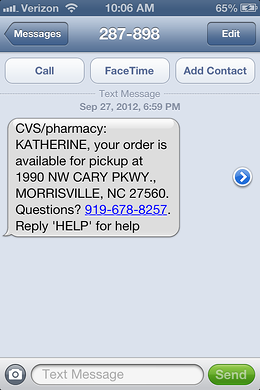 Time is not only critical for the sake of convenience, but customers' medical health. This is why the immediacy of text messaging allows for a great customer experience at CVS/pharmacy.
Barnes & Noble: While Amazon.com is the largest retailer on the Internet, Barnes & Noble remains the largest book retailer in the U.S. For those of us who still prefer to have a brick-and-mortar store, Barnes & Noble is a great option due to its "Pick Me Up" program.
Barnes & Noble created this program to blend its online and offline presence. The premise behind it is simple: "Reserve Online, Pick Up at a Store Near You."
The "Pick Me Up" program is ideal for cross-channel consumerism. The days are long gone when people researched and purchased products in the same channel. Barnes & Noble's mobile program helps account for this shift in buyers.
Customers receive a text notification of when a book is ready to be picked up at their local store. In short, mobile serves as the bridge between online and the brick-and-mortar store.
As a customer, I liked this mobile program for the times when I simply do not want to pay for shipping or wait a week to get the juicy bestseller.
Receiving a SMS alert made the whole buying process run very smoothly. When you arrive at the store, you go straight to the checkout line and let the cashier know you have a pickup order. They'll grab the items from behind the registers for you, allowing a quick and convenient buying process. Now you do not have to waste time searching the store for a book only to find it is out of stock.
This Tweet succinctly sums up one customer's satisfaction with the "Pick Me Up" program:
Verizon Wireless: Verizon Wireless can send an email or a text message to your phone to notify you when the bill is available, as well as usage warning texts on your behalf.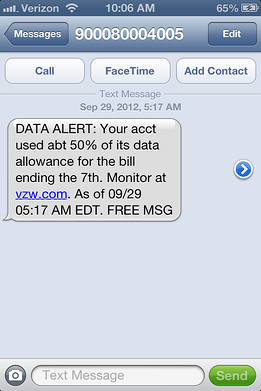 According to the L.A. Times, Verizon, AT&T and other cell major cellphone providers have agreed with U.S. regulators to end bill shock by sending warning text messages to subscribers who are approaching monthly voice, text and data limits.
I like this SMS use case, because it is proactive by creating a dialogue between brands and customers. Remember: a well-informed customer equals a happy customer.
These 3 use cases demonstrate that mobile can be simple, yet powerful in driving customer engagement and satisfaction. Hopefully, they have inspired you to start implementing SMS messaging as part of your mobile strategy. Feel free to share any other use cases that you have encountered and enjoyed.