As you may know, StrikeIron is an Informatica Cloud partner. We recently won another customer account that will be using the StrikeIron Contact Record Verification suite to clean their records as they move between Salesforce.com, a proprietary marketing database, and Eloqua via Informatica Cloud. To help this customer get started, we wanted to be able to run Informatica Cloud on a Mac as well as have a test platform that was remotely accessible from anywhere.
Running Informatica Cloud on AWS accomplished both of these goals. We could run the secure agent on the EC2 instance and then access the Informatica Cloud web front end from a Mac or any of our customer's computers without worrying about firewalls, etc.
This tutorial will go step-by-step through how to create an AWS EC2 Windows Server instance and install the Informatica Cloud Secure agent.
The first step is to create your Amazon AWS account on this page by clicking the "Sign Up" button in the top right corner. The instance created in this tutorial will run in the free tier so if you are a new user, it should not cost you anything. Once your account is created and approved we are ready to start.
Create the instance:
1) Log into your AWS account at: https://console.aws.amazon.com/console/home
2) You should be on the AWS Management console screen. Click the EC2 icon

. This will take you to the EC2 Console Dashboard.
3) Click the "Launch Instance" button to display the Create New Instance Dialog.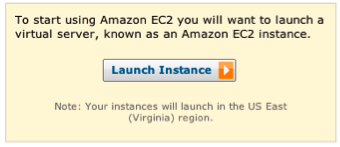 4) Make sure the Quick Launch Wizard radio button is selected. There are three key pieces of information you will enter on this screen:
In the "Name your Instance" field type "InfaCloudTest" or whatever you would like to call this instance.

In the "Choose Your Key Pair" section, select the "Create New" radio button and name your security key pair "InfaCloudTest". The key pair is used to create a secure password for your remote desktop. Click "Download" to download your PEM file to your computer. Note the location as you will need it later.

Finally, you will select the instance configuration. Choose the "Microsoft Server 2008 Base" with the 64 bit option selected.
Your "Create New Instance" dialog box should now look like this:
5) Click "Continue" to see the next step in the "Create a New Instance" process.
6) The next dialog should look like the following. You should not need to change anything but there are two important settings to note. First, make sure the Shutdown behavior is set to "Stop". "Stop" means that if you shutdown the instance, all of your data will persist – just like a normal PC. If this option is set to "Terminate" your instance will be effectively formatted and will also disappear from your instance table next time Amazon does a cleanup sweep.
The next important item is the Security Group. Amazon creates a default security group for you. Depending on what endpoints you connect to, you may need to open up ports in the security group later.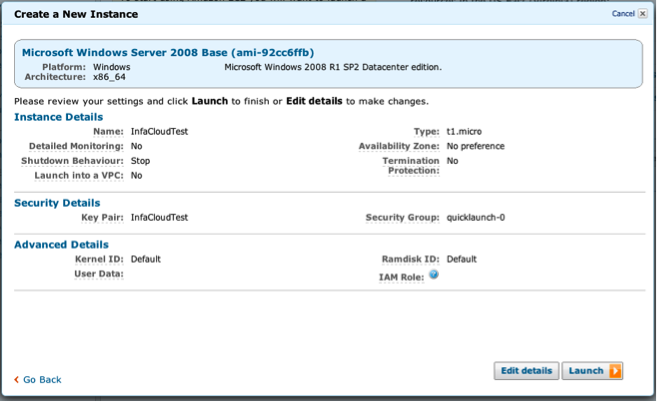 7) Click "Launch" to continue. You will receive a confirmation box saying that your instance is launching. Click "Close".
8) You will be taken back to the EC2 Management Console. On the top-right hand side, you will see a section called "My Resources". It should now show that you have 1 running instance (you may need to wait up to 2 minutes then click refresh for it to show up).
9) Click "1 Running Instance" and you will be taken to the "My Instances" page as seen below. Click the check box to the left of your instance name (InfaCloudTest) to display the instance information in the bottom pane. Take a look at this information which includes the full domain name, security groups, and elastic IP if you have linked one (note: we do not need an elastic IP for running Informatica Cloud).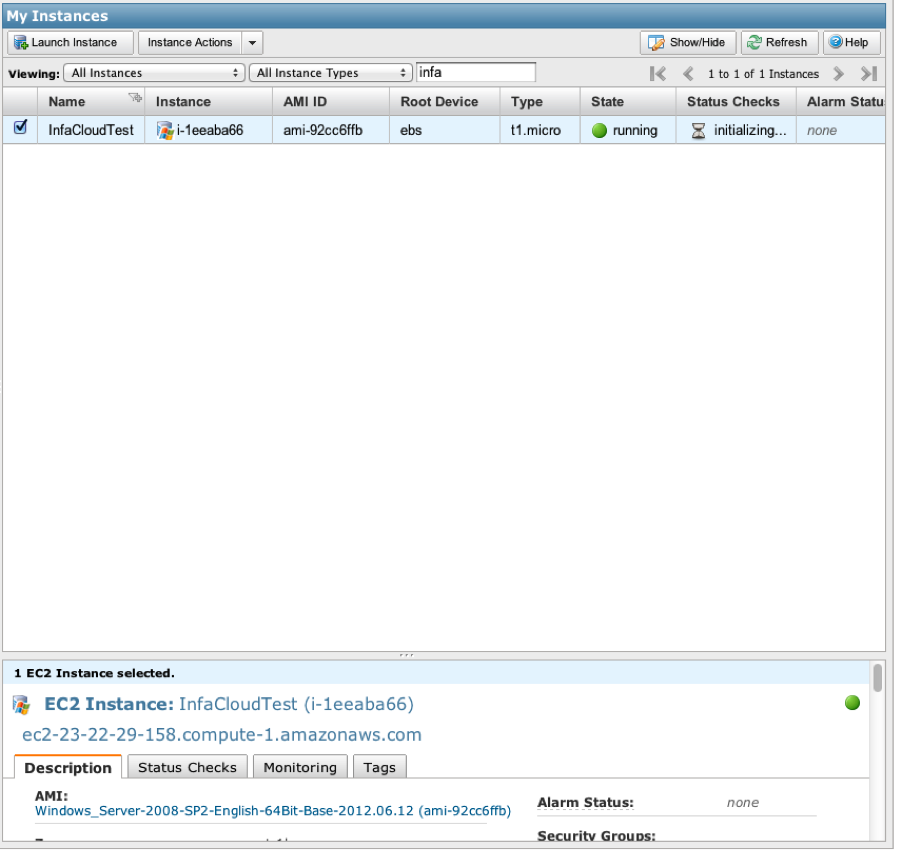 10) Right click on the instance and select "Connect" as seen below: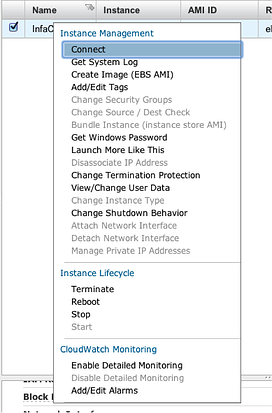 11) You will see a dialog box like below which contains the remote desktop login details for your instance.
12) Click the "Retrieve Password Link". You may get a warning saying "Not Available Yet". If so, you will need to wait up to 15 minutes.
13) Click "Choose File" and find the PEM file you downloaded in step 4.
14) Click "Decrypt Password". This will display a dialog box with the login information.
15) Note the Public DNS, username, and password as you will need this information to Remote Desktop into the machine. You can download a shortcut file to a Remote Desktop Instance as well.
16) Now open your Microsoft Remote Desktop Application. This will be in the Application Folder if you are on a Mac (RDS comes with Office or you can download from: http://www.microsoft.com/mac/remote-desktop-client) or access via "Program Files | Accessories | Remote Desktop Connection" if you are on a PC.
17) For the computer name, enter the Public DNS entry (note: this will change each time you stop and restart and instance).
18) Remote Desktop will pop up a login box. Enter "Administrator" as the User Name and the password you copied from step 15 above. Leave the domain field blank. Click the "Add this information in your keychain" if you are on a Mac to remember your password.
19) You may receive a warning that the server name on the certificate is invalid. Click "Connect".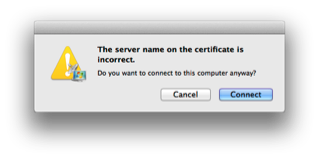 20) You should now be logged into your AWS Windows instance and see a Windows desktop.
Installing Informatica Cloud:
21) Start up Internet Explorer. Select "Don't use recommended settings" if prompted. Internet Explorer comes with very tight security settings on Windows Server so I suggest you navigate to http://google.com/chrome and download Chrome to save some time and frustration. You will likely have to add several google domains to the Trusted Sites list when prompted to download.
22) Navigate to www.informaticacloud.com and click "Login Here" in the top right corner.
23) Login using your Informatica Cloud credentials.
24) Click "Configuration". Click "Agents".
25) Click the yellow "Download Agent" button.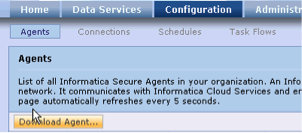 26) Select "Windows" as the platform and click "Download".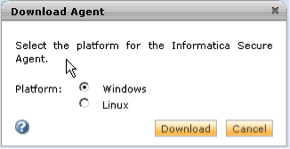 27) When the agent_install.exe dialog is complete, click agent_install.exe and "Run" in the Windows security box.
28) Select the default values for the Informatica Cloud Agent install wizard and click "Done" when complete.
29) Enter your Informatica Cloud credentials and click "Register" in the setup box.
30) After approximately 30 seconds, you should see that the Secure Agent is up and running on the Windows Server.
31) You should see the Agent populate on the Informatica Cloud site in the Configuration | Agents section.
32) If you are going to use files or database on the AWS Windows Server, you will also need to add a connection to the EC2 instance. For example, to read/write flat files on the Windows Server, in the Informatica Cloud web app, click "Configuration", and then "Connections". Click the yellow "New" button:

33) Create a target directory on the Windows Server, "c:\infacloud" in this case, and fill out the new connection information as seen below:
Your Informatica Cloud instance is now ready. You can create Contact Validation, Data Synchronization, and other tasks.
I hope you found this tutorial helpful. Please leave any questions or comments below or feel free to drop us an email at info@strikeiron.com